Briggs Healthcare
Brand's Average Product Rating
Based on 476 total reviews.
About Briggs Healthcare
Since 1947, Briggs Healthcare (formerly Mabis DMI) has grown to be one of the largest privately held manufacturers and distributors of medical documentation, charting systems and healthcare products. With over 50,000 customers today, Briggs Healthcare manufactures and distributes a diverse range of industry-leading product lines in these business segments: home healthcare products, medical records, obstetrics, sourcing and stocking, re-distribution and branded products for patient care.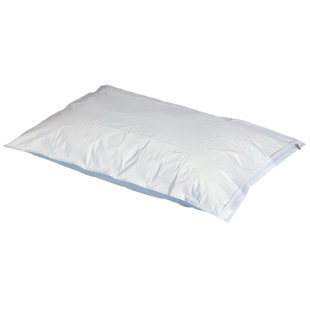 Pillow Protector (Set of 2)
by Briggs Healthcare
$31.98
($15.99 per item)
$49.98
The Briggs Healthcare Pillow Protector protects your pillow and extends the life of the pillow. The fabric is made out of vinyl and can be used time and again. The cool and breathable pillow protector will improve the life of your pillows significantly. This pillow protector is water resistant, hypoallergenic and soft. It fits a standard size pillow and has a rust-resistant zipper for durable use. The Pillow Protector by Briggs Healthcare is soft and will keep your pillows healthy for a very...
Overall: 21.25'' H x 27.5'' W x 0.13'' D
Overall Product Weight: 0.1lb.