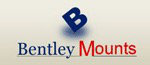 Bentley Mounts
Brand's Average Product Rating
Based on 28 total reviews.
About Bentley Mounts
Ever since its establishment, Bentley Mounts has been committed to providing better products to its valued customers. They are renowned for their innovative mounting products that focus on quality, ease of installation and functionality while maintaining beautiful looks. As a manufacturer of a comprehensive line of wall and ceiling mounts for plasma, LCD and projectors, along with custom mounts for special projects, there are a few in the industry that can beat them in terms of product quality. They offer a vast line of mounts and furniture stands for residential and commercial use, including a huge selection of mounts and furniture for LCD and plasma screens, computer monitors, projectors, speakers and much more. A combination of technology and vision has ensured a consistent supply of high quality, competitively priced products. Their products have found recognition around the world, and they have earned loyal customers in all corners of the globe - North America, Europe, Asia and the Middle East. Even as they continue to grow as a company, they promise to stand by their commitment to the highest standard in the industry.