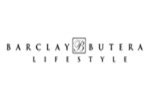 Barclay Butera Lifestyle
Brand's Average Product Rating
Based on 41 total reviews.
About Barclay Butera Lifestyle
As a lifestyle designer of grand luxury spaces and spectacular home furnishings, Barclay Butera's desire has been to provide a broader mass market with high-style home décor which is truly inspirational and approachable in design. It is with great honor and passion that they introduces you to Barclay Butera Lifestyle; a myriad of collections from furnishings to art to carpets and beyond for the all-American home.