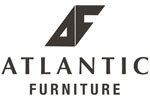 Atlantic Furniture
Brand's Average Product Rating
Based on 222 total reviews.
About Atlantic Furniture
With over 30 years of experience in the furniture industry; Atlantic Furniture designs manufactures and imports solid hardwood furniture and mattresses. They have a strong commitment to quality, safety and the environment. Their integrated collections embrace a variety of today's lifestyles to meet your needs. They invest in quality craftsmanship providing a lifetime of satisfaction to their customers. Their products bestow timeless style and everlasting value to your home. Their exclusive high build five step finishing process produces a superior product that is both water and scratch resistant. All products are proven to be lead free and kid safe by stringent independent testing that ensures government safety regulations are met or exceeded. As a member of the Sustainable Furnishing Council they are committed in their efforts to sustainability and environmental responsibility through the use of eco-friendly hardwoods.