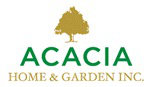 Acacia Home and Garden
Brand's Average Product Rating
Based on 44 total reviews.
About Acacia Home and Garden
Drawing from over twenty-five years of experience, Acacia Home and Garden is an established manufacturer of fine indoor and outdoor furniture. They are a vertically integrated operation supplying private label and branded product from our international and local facilities. Acacia Home and Gardens focus is to consistently deliver high quality furniture that is known for drawing on the beauty and character of ancient weaving arts while incorporating the benefits of modern technology. From natural plant materials to the in-house development and introduction of innovative Durapex® and Poly-vexin®, they have not only preserved traditions and improved standards of craftsmanship, but they have also continued to reinvent and redefine the art of casual living.
Acacia Home and Garden Collections